back to all blog posts
Two Building Grand Openings Provide 204 New Homes!
Wednesday, December 12, 2018
This content block does not have a preview.
Rain, cold and a whole lot of wind didn't dampen the joy the Central City Concern (CCC) community felt during TWO building grand openings in as many weeks. On Tuesday, Nov. 29, the soggy clouds actually parted in the afternoon as we celebrated Hazel Heights, 153 units of affordable housing on SE Stark St. at 126th Ave. The next week, on Tues., Dec. 4, a cold but sunny day, we welcomed 51 households into their new homes at Charlotte B. Rutherford Place on N Interstate Ave.
Both buildings are part of the Housing is Health initiative—a pioneering commitment from local health organizations to support the development of urgently needed affordable housing in Portland.
At the Hazel Heights grand opening, Portland Mayor Ted Wheeler and Multnomah County Commissioner Jessica Vega Pederson spoke, as well as David Russell from Adventist Health Portland (a Housing is Health partner), Rilla Delorier from Umpqua Bank, Ann Melone from U.S. Bank and Margaret Salazar, director of Oregon Housing and Community Services. Before he cut the ceremonial ribbon, Hazel Heights resident Jerrod M., a single dad to three kids, expressed his gratitude that several other single dads will live in the community. He then sang a stirring honor song in his native language, Ojibwa.
Hazel Heights will welcome people exiting transitional housing programs who have gained employment and seek a permanent home, but still may have barriers to housing. The four-story building contains 153 homes total: 92 one-bedroom and 61 two-bedroom apartments. Rents will range from $412 to $995 per
month, depending on Median Family Income. These homes are important for supporting employed people with affordable housing. When people are housed, they have a better chance for a healthy future.
Exactly one week later, more than 100 people gathered at Charlotte B. Rutherford Place, a 51-unit building in North Portland. One hundred percent of its new tenants are part of the Portland Housing Bureau's N/NE Housing Strategy Preference Policy, designed to address displacement and gentrification in historically Black North and Northeast Portland neighborhoods by prioritizing long-time or displaced residents with ties to the community for new affordable housing opportunities in the area.
Mayor Wheeler spoke again, along with Multnomah County Chair Deborah Kafoury, CareOregon President and CEO Eric Hunter, Cathy Danigelis from KeyBank and Latricia Tillman from Oregon Housing and Community Services' Housing Stability Council.
The Honorable Charlotte B. Rutherford was the woman of the hour. She is a community activist and former civil rights attorney, journalist, administrative law judge and entrepreneur. Her grandfather, William Rutherford, ran a barbershop in the Golden West Hotel—now a CCC residential building. Her parents, Otto G. Rutherford and Verdell Burdine, were major figures in Portland's Black civil rights movement. Her father was president and her mother was secretary of Portland's NAACP chapter in the 1950s, and together they played an important role in passing the
1953 Oregon Civil Rights Bill. In her remarks, Judge Rutherford said she's glad the city is finally making amends for past injustices. "But it's just a start," she said. "There is plenty more to do."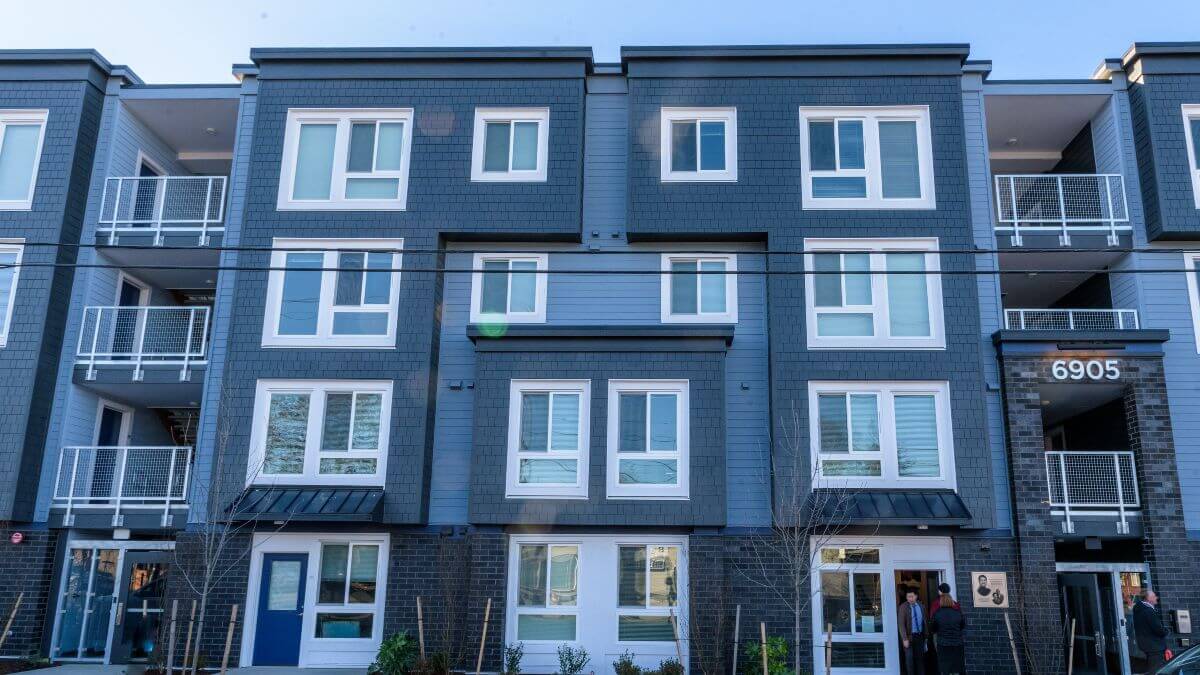 The ribbon cutting was a memorable one: Anthony J., a new resident who grew up in the neighborhood and is currently working hard to take full advantage of second chances, and Charlotte jointly cut the ribbon to much celebration.
Housing is Health's coalition of six health organizations—Adventist Health Portland, CareOregon, Kaiser Permanente Northwest, Legacy Health, OHSU and Providence Health & Services – Oregon—provided initial funding for both housing projects.
Hazel Heights' major contributors include Umpqua Bank, Portland Housing Bureau, U.S. Bank, Oregon Housing and Community Services, Federal Home Loan Bank and PGE's Renewable Development Fund. The design and development team is Central City Concern, the architect is Ankrom Moisan and the builder is Team
Construction.
Charlotte B. Rutherford Place's major funders include KeyBank, Oregon Housing and Community Services, Portland Housing Bureau, Multnomah County and PGE's Renewable Development Fund. The development team is Central City Concern and Home First Development, the architect is Doug Circosta and the builder
is Silco Commercial Construction.
A robust capital campaign completed funding for these two buildings, as well as Blackburn Center, opening in July 2019.
This content block does not have a preview.