This content block does not have a preview.
After years of struggling with addiction, homelessness and incarceration, Vi Swiftcloud never thought she'd live past age 25. Now, Vi is celebrating 25 years at CCC after climbing the ranks from janitor to leading our Employment Recovery and Recovery Mentor programs. This is her story — in her own words.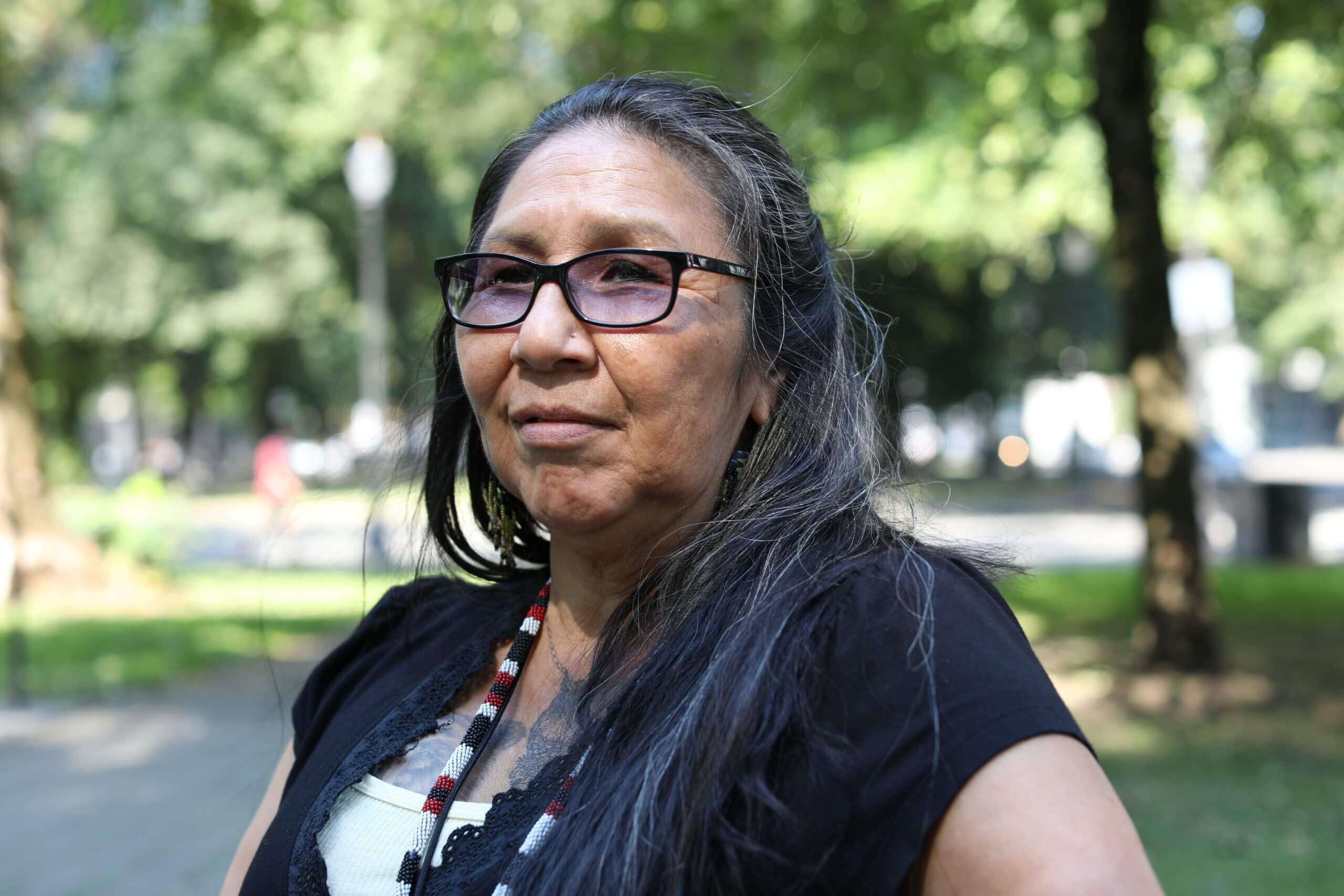 I didn't know that I had a problem with drugs or alcohol until I got into treatment. The counselors asked me questions like, "Where did you live? Did you have any jail issues?" And I said, "Well yeah, doesn't everybody?" That's when they told me, "Honey, you were homeless and most likely you're an addict." And I was like, "What?!" That lifestyle was the norm for me – this was the environment I came from, that's the way you lived.
I was born on the Standing Rock Sioux reservation in South Dakota. I lived there for a few years until the late '60s when my stepdad was transferred from Fort Yates, North Dakota to Oakland, California under the Indian relocation program. We didn't speak English in our home. We spoke my native language, Lakota Sioux. At school, kids made fun of me because I didn't understand English. My grandmother, who was blind, taught me how to use all of my senses — like seeing with my hands and closely listening to what people were saying. So, I learned by paying attention to facial expressions and the sounds around me.
In Oakland, we had a house and a car, but that didn't last very long. My stepdad left, but promised to come back. Later, we found out he died of alcohol poisoning. My sisters and I ended up in foster care because my mom couldn't stop drinking. He was the love of her life.
I started experimenting with weed and wine. I prostituted, I did drugs, and I was arrested for assault. I figured I wouldn't live to be older than 25, so it was quite interesting when I ended up in jail on my 25th birthday – that was like a sign. I lived like that for another five years. I was like, "Either I'm going to end up in prison for a very long time or I'm going to be dead."
When I moved to Portland, I got into treatment and went through the Women's Community Corrections program. My sponsor suggested that I find the higher power of my own understanding. But I said, "I don't know what that is." And she said, "Why don't you go to the park and pray about it." So, I went to the park and I just sat there. That's when the wind came. I watched as the leaves swirled around, I was hearing the birds, and I started to have memories of my grandmother. I remembered what she taught me – to see by hearing. I started using my ears instead of relying on sight.
I worked hard to stay away from alcohol and drugs. I learned some coping tools. I listened to all of the suggestions that were given to me and took it one day at a time.
I started working for Central City Concern in 1995. My first job was cleaning toilets for minimum wage, which was $5.35 an hour. My attitude was, "Ok, I will do whatever it takes." My first paycheck was $200 and I remember thinking, "Wow." I never had a paycheck before. But, then the other side of me was saying, "You could have made that in an hour." Not this time. This time I used elbow grease — that's what my mom used to say — really working for it and that felt good. It was a process. It was slow, but things started to fall into place.
I had one year clean when I got my son back. I left him with my cousin when he was eight. The guilt didn't really surface until I got clean. When he came back and lived with me, he told me he hated me and I told him, "I know you do." I told him how I hated my mom because I followed in her footsteps and continued a cycle of addiction. So, my son and I related on that level – him not liking me and me not liking my mom. I told him, "I'm doing my best to do things different now that I'm in recovery." And he said, "We'll see." I didn't take anything real personal, because I knew none of that was his fault. He was a child.
Then, my sister's three young children came to live with us when I had 18 months clean. We used to take shopping carts and put our clothes in them and push them down to the laundromat, three blocks from our apartment. When we moved to a bigger place, I bought a washer and dryer. It was the first time I had ever bought anything like that. That's when I was like, "Ok, I guess we're going to stay. I guess we're staying in Portland!"
I feel like I've grown up at Central City Concern because when I got here, I didn't have a whole lot of skills. I was rough around the edges. Since that time, those edges have smoothed out.
I gradually climbed up the ranks, from janitor to front desk to building manager to resident coordinator. From 2004 to 2015, I was a Housing Specialist with the Community Engagement Program.
It was rewarding to see people transition from the street. There was a guy who slept in one of the doorways in Old Town Portland. When he came into our program, you could tell there was some stuff he was battling. We gave him a towel, blanket, food box, cooking utensils and a key to his room at CCC's Golden West building. He was able to take a shower, shave and cut his own hair. We gave him clean clothes from our clothing closet. I watched him walk out the next day and I didn't recognize him. He ended up going to trade school and became a chef. He was working at a restaurant in the Big Pink building the last time I saw him.
I will continue to do my best to help our homeless folks get into housing and access the services they need to have a good life, no matter how long or short they live.
I just celebrated my 25th anniversary at CCC. I'm now Program Supervisor of the Employment Recovery program and Recovery Mentor Program. I have  raised  five children and managed to  graduate  with  a Bachelor's  degree  in Business Administration in June 2020.
I'm grateful that I have a second chance. The first time I didn't do very good, but I am able to have a life now because I put my recovery first.
This content block does not have a preview.
Central City Concern is proud to employ people from all backgrounds, walks of life and histories. Around half of our staff identify as being in recovery and have been participants in CCC services or similar programs in the past. Want to utilize your unique life experiences while doing meaningful work for our clients and our community? View our current job listings and apply to join our team!