back to all blog posts
Hansen Clinic Expands To The Banfield Shelter Motel
Tuesday, September 22, 2020
This content block does not have a preview.
The Hansen Clinic is one of CCC's shelter-based programs that serves chronically ill homeless individuals, helping them to manage their health and avoid emergency room visits while they seek to stabilize their lives. This month, the Hansen Clinic is expanding from serving around 15 medically-vulnerable shelter residents to nearly 60 at the new Banfield Shelter Motel – one of three new motel-based shelters opened by Multnomah County in response to the ongoing COVID-19 pandemic.
For a person experiencing homelessness, managing a serious chronic illness like congestive heart failure, COPD or diabetes can be a nearly insurmountable challenge requiring frequent hospitalizations. Once stable, they're discharged with no home to recover in, and the cycle of illness begins again: increasing costs, worsening disease, and sadly often, early death.
The Hansen Clinic team composed of physician assistant Pat Buckley, PA-C, and Treva Drake, BSN, RN, interrupts that cycle by helping homeless folks successfully manage their chronic conditions, outside the hospital.
"We call it 'supportive primary care,'" said Buckley. "We're nurturing people into a place of stability. We see fewer patients per shift, and if I need to spend 45 minutes with a patient, I can."
Buckley is full of stories about patients whose lives have been transformed, and the burden of chronic disease lifted, simply through steady care from
the Hansen Clinic.
One patient was cycling in and out of the hospital frequently for issues with COPD, heart failure, diabetes and pneumonia. He got connected to a medically-vulnerable shelter program, and then to the Hansen Clinic. Buckley met with him twice weekly and he worked with a nurse almost daily, learning to manage his diabetes and his breathing. Because he was in a shelter that didn't require him to leave each day, he had regular access to his belongings, could manage his medications and take a rest when he needed to. And while he was learning to manage his health, he was also accessing other services that ultimately led to permanent housing. Now, that patient has a home and the tools he needs to manage his health – with only one hospital visit in the last year.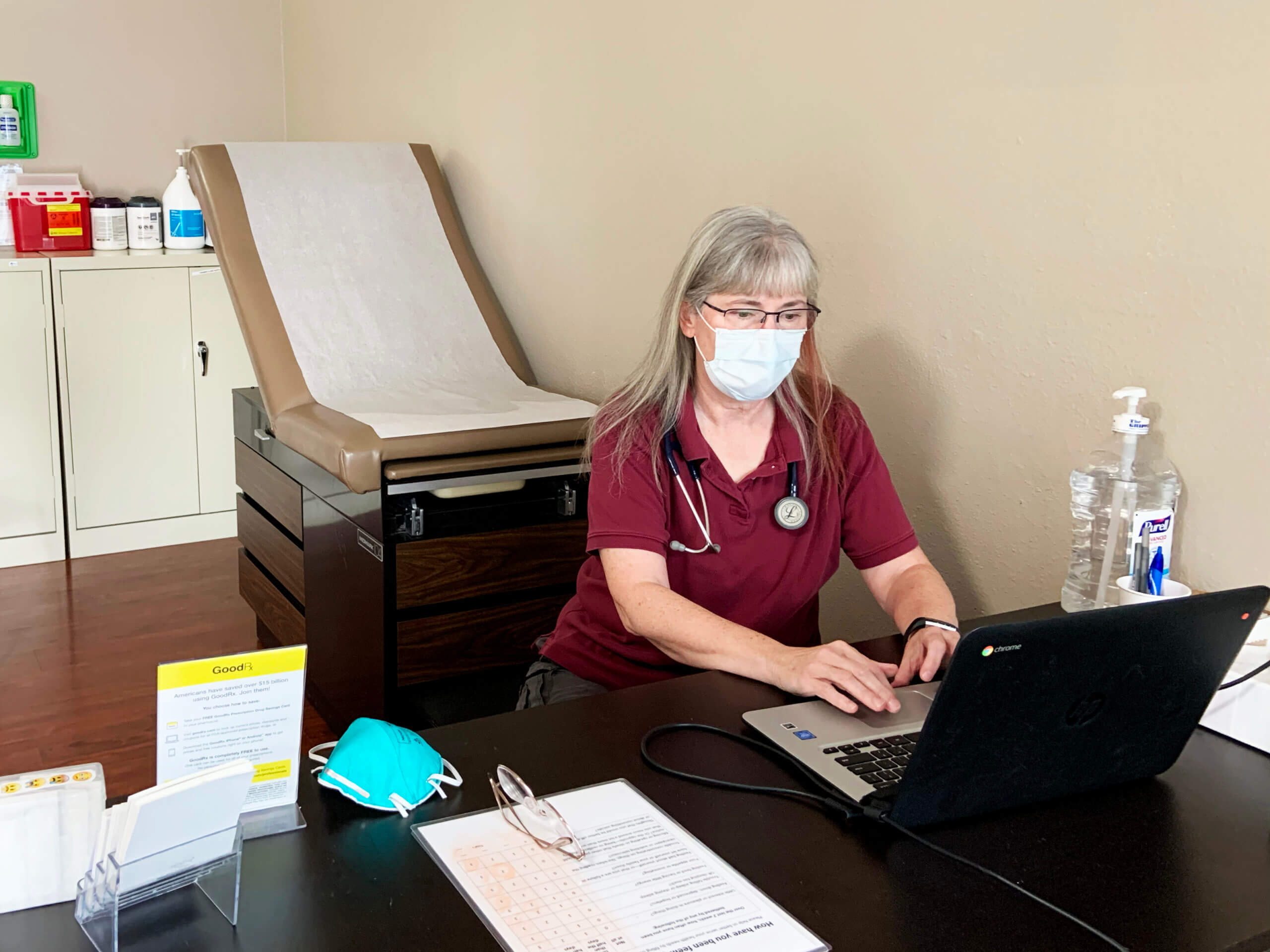 When nurse Treva Drake arrives to work at the Hansen Clinic, it often feels like she's making a home visit. That's because the clinic is located right where the patients live, if temporarily. "It feels like I'm a co-housemate, coming into their space, and they greet me with friendliness and warmth," Drake said.
Every day is different. On a recent morning, she was working with a patient whose lung cancer made her vulnerable to COVID-19. At other times, Drake might triage a patient with an abscess or difficulty breathing, check on a patient after a medication change, or provide individualized education about staying healthy — and because the clinic is onsite, patients can easily knock on the door to ask questions as they arise.
"I tell patients, 'I'm here, and I'm going to be here tomorrow too,'" said Drake.
Protecting the health of vulnerable Portlanders is more important than ever during the COVID-19 pandemic. Those at the Banfield Shelter Motel are all at disproportionately high risk of COVID-19 infection and complications – they're homeless individuals over the age of 60, with underlying medical conditions,
and many are people of color. The Banfield's private rooms allow for physical distancing that isn't possible in a congregate shelter setting, and enable residents to safely quarantine if necessary. Case managers from Transition Projects (TPI), a longtime CCC partner, coordinate services for residents, while the Hansen Clinic team ensures they stay as healthy as possible.
"Our ultimate goal is to stabilize their health and help them transition into housing," Buckley said.
This content block does not have a preview.