On June 27, 2021, Patty Katz, cofounder of Hands Across the Bridge, passed away. Patty was a powerful advocate and a friend to many at Central City Concern. She is deeply missed, but her legacy lives on in all the lives she touched through her work. 
Patty began struggling with substance use disorder as a young person in the 1960s and spent time in and out of prison. In her late 30s, she started using heroin after injuring her back. 
Bobby Tsow, now a Certified Alcohol Drug Counselor at CCC, met Patty Katz in prison, when Columbia River Correctional Institution was coed. "Patty and I would walk the yard together and have conversations about how we would like to do something different and change our lives," he says.  
 After 14 years of heroin use, a doctor warned her that she was in danger of losing her arms, which inspired her to begin thinking about recovery. Soon after, Patty checked herself into a Clean and Sober Club in downtown Vancouver. She began attending meetings, found transitional housing and was able to stay sober. Eventually she got her first job at CCC's Hooper Detoxification Stabilization Center. There she was reunited with her friend Louise Wedge, who she once used with.  
Patty and Louise's connection was "deep on a spiritual level," according to Bobby. In 2001, early in their recovery, Patty and Louise (who passed away in 2019) stood on the Interstate 5 Bridge across the Columbia River at daybreak to celebrate being on the bridge, instead of under it. In 2002 they held the first official Hands Across the Bridge event to kick off National Recovery Month in September. That first year, 200 people gathered, holding hands. In later years, it grew to thousands, and Hands Across the Bridge Project became a volunteer-run nonprofit. In 2020, the event turned virtual due to the pandemic.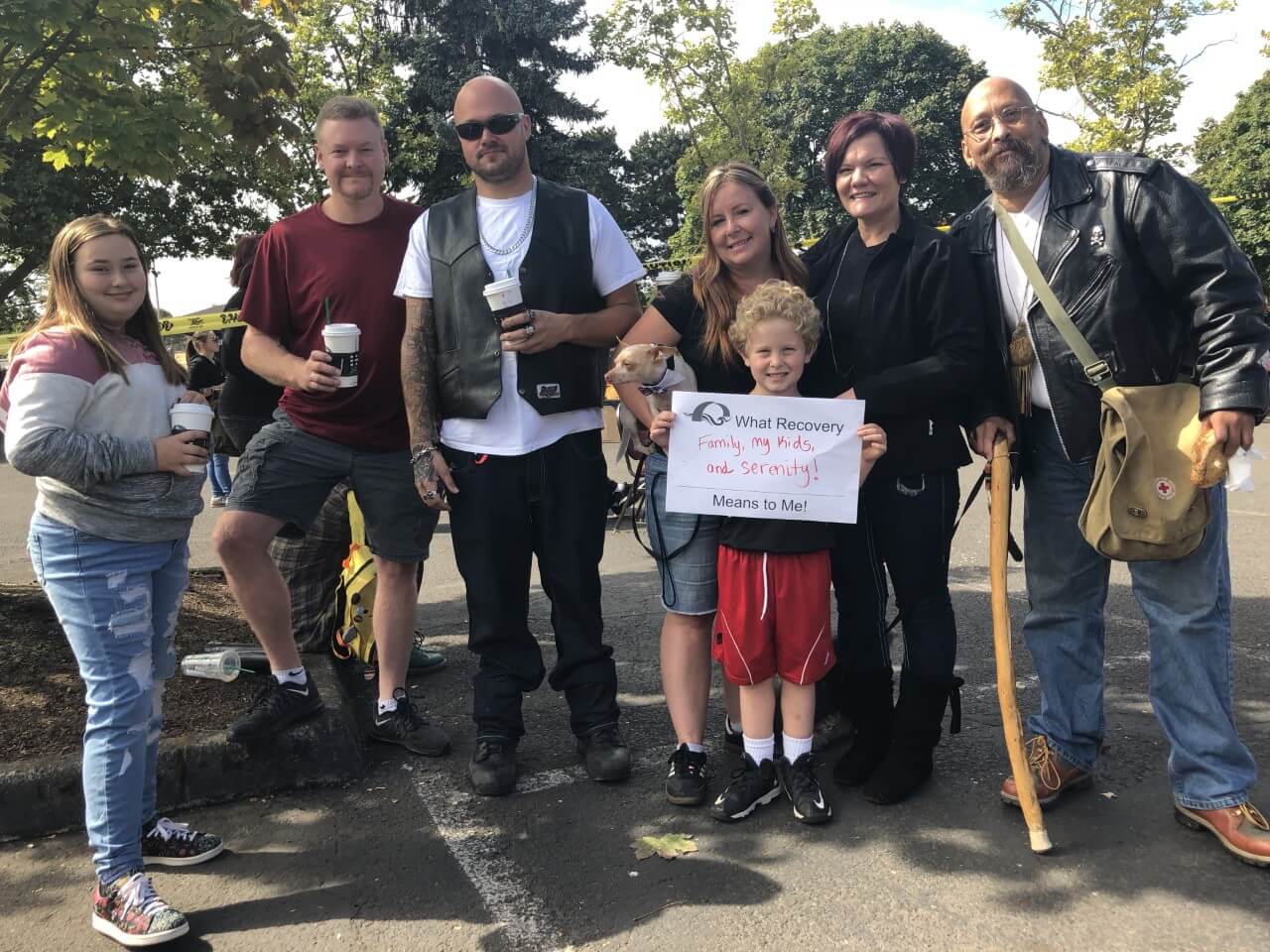 Bobby has attended Hands Across the Bridge since the beginning and finds it an emotional and empowering experience. Sharon Fitzgerald, director of integration at CCC and a friend of Patty's, also began attending the event early on. "At Hands Across the Bridge, we are saying that Oregon and Washington are connected, but the reality is that all across the world we are connected to other human beings who have faced the same adversity that we have," she says. 
This year's event will again be in-person on Monday, September 6 at 10 am. Due to COVID-19 safety concerns, this year the event will take place only at Esther Short Park in Vancouver, Washington, and not on the bridge. 
Download a flyer with more information here and RSVP on Facebook here.
In addition to Hands Across the Bridge, Patty is known for her involvement in Recovery Association Project (RAP), an organization engaged in advocacy and community organizing by people in recovery for people in recovery. CCC was a co-founder of RAP in 1998, along with individuals in recovery, but it eventually became an independent organization. CCC's Recovery Mentor Program was conceived at RAP when leaders began discussing how they had left detox with a referral slip, had felt lost and had often gone back to using.  
Ed Blackburn, CCC's president and CEO emeritus, was a part of these initial conversations. A recovery mentor was "someone to come to get to know people while they're in detox, and when they're discharged, take them by the hand, get them into housing, surround them with people in recovery and make sure they have everything they need and stick to them like glue until they've been integrated into the recovery community," he says.  
Ed met Patty in 1999, when RAP was doing outreach in the recovery community to find people interested in being trained in community organizing. "Patty brought such vibrancy, enthusiasm, and dedication to helping people who were in recovery that she became a leading force in RAP," says Ed.
Sharon is a graduate of the Recovery Mentor Program. "Nothing worked for me, but when I got accepted to the Recovery Mentor Program, my whole life changed," she says. 
In addition to being a leader in the Recovery Mentor Program, Patty advocated for increased access to withdrawal management services and substance use disorder treatment with RAP, but her advocacy didn't stop there. Patty worked for Oregon Action, Bridges to Change, Partnership for Safety and Justice and Dual Diagnosis Anonymous of Oregon. She was also a regional representative for Faces and Voices of Recovery and was appointed to the Governor's Reentry Council where she co-chaired the Committee on Family Issues. 
"[Patty] was so full of energy, so hopeful and very hard to say no to. But it was always about other people, it was never about her ego," says Ed.  
All of us at Central City Concern send our heartfelt condolences to Patty's friends and family. We look forward to celebrating National Recovery Month and honoring her memory at this year's Hands Across the Bridge event.